Ever wished you could pack your camera, lenses, iPad, iPhone, 15″ MacBook Pro, and other odds and ends in ONE BAG? The 15″ Everyday Messenger from Peak Design can do it! It really is the one camera bag to rule them all! This Peak Design Everyday Messenger review will cover the quirks and features of this awesome camera bag.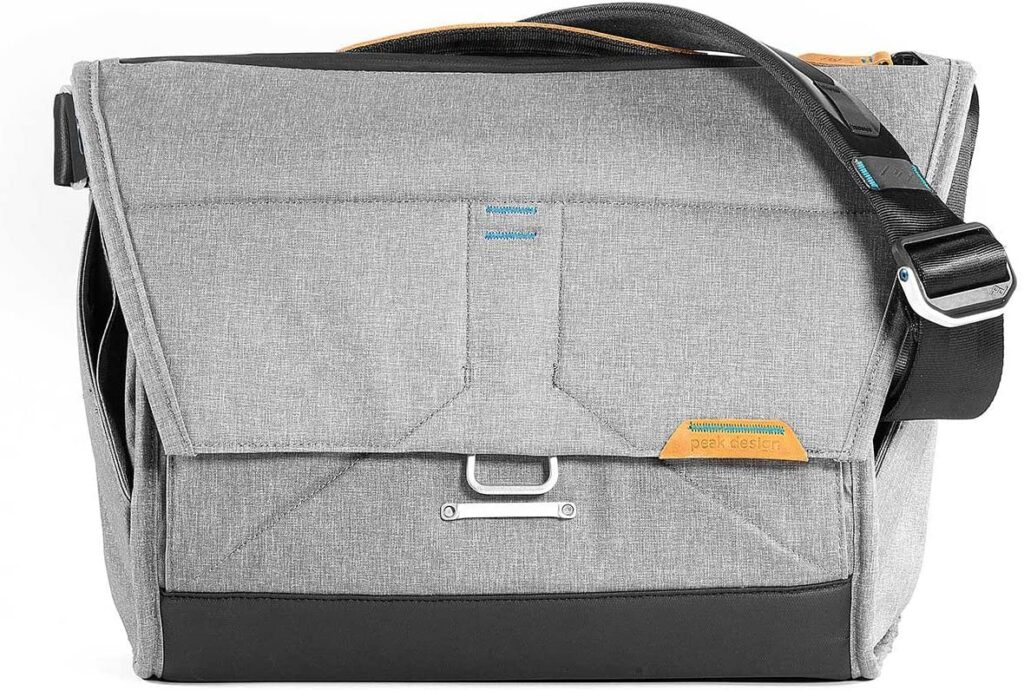 –Update
Peak Design no longer makes the 15″ version of this camera bag–but you might still find one on Amazon.
–End Update
The Problem
Ever had to pack your tech toys and camera gear in separate bags for air travel? It's not fun. If you want ONE bag for your laptop, camera, and lenses, you probably searched online and maybe purchased something. But did it fully met your needs?
This gigantic backpack holds a 15″ laptop and camera gear, but it's almost too big and bulky for airplane travel. Other bags work, but are too small for camera setups with long lenses and usually don't have room for 15″ laptops.
The Solution
The masterminds at Peak Design created the Everyday Messenger. With that one bag, you can pack around your 15″ laptop, camera with long lens, and still have room for other lenses, battery chargers, memory cards, etc. If you don't need to pack around a 15" laptop, they make a smaller, less expensive, 13" version. This bag regularly receives 5 star reviews on Amazon, and once you've had one in your hands, it's easy to see why.
Watch Peak Design's video to "see" this bag in action:
---
---
Price
Back when it first launched, the Everyday Messenger 15″ cost around $250. the 13″ variant runs somewhere in the neighborhood of $220. If your significant other is worried that $250 sounds a bit much for a mere camera bag, feel free to remind them that Coach purses can sometimes cost double that! And if there's one (or several) Coach purses in your household, remind them that those bags were purchased without drama–so this one is should be a no-brainer!
Build Quality
The Everyday Messenger is constructed of premium materials, and has excellent build quality.  In fact, Peak Design products are so well built, they all come with a lifetime guarantee. Its "flap" design means it isn't waterproof, but it has a water resistant coating–so water beads up and drips off of the bag in the rain.
The Strap and Buckle
The strap is literally made out of 'seatbelt', so it's strong and smooth.  The metal buckle slides easily when you need to shorten and extend the strap.  When you want to get into the main compartment, just slide the buckle to lengthen the strap so you can reach inside. When you want the bag out of your way, just slide the buckle up to shorten the belt, and sling the bag onto your back.
Protection for your Camera Gear
The Everyday Messenger is thin and light–not "puffy" and "foamy" like other bags.  But Peak Design didn't skimp on protection. They used a space-age, high-density material to keep your camera gear safe. The base of the bag is also flat, so you can set the bag down, and it won't tip over.
Functionality
Inside the bag are flexible, removable divider inserts that use hook-n-latch material to stay where you put them.      
What makes these dividers different is their origami-like fold patterns. You can configure them to stand up, fold into a shelf at the half-way point, or both–depending on your needs.
On the back of the bag is a zipper that reveals a slim compartment that holds a 15″ laptop, tablet, and smartphone–each in their own area.
---
---
Quiet Operation
If you photograph weddings, or other solemn ceremonies and events, you know that photographers have to be ninjas–moving silently, and practically unseen. You definitely don't want attendees to endure the shredding noises velcro makes when you open your camera bag. I don't want to name names, (because Canon might get mad), but if you've ever owned this camera bag you know what I'm talking about!    
The top flap of the Everyday Messenger bag is secured with a very quiet magnetic latch.  You can get inside the bag with NO NOISE! If you don't want to open the flap, just use the zipper on the top flap and reach inside.
Organized Storage
The main compartment is deep enough to vertically store a Canon 1DX Mark III with 70-200mm f/2.8 L lens attached.  Alternatively, you can fold the origami dividers to create a "shelf" and store the camera horizontally.
The front compartment of the bag has lots of little pockets, which are the same size as camera batteries and memory cards. Some pockets have green stitching, some have red. Dead batteries and full memory cards go in the red pockets, and fresh ones go in the green pockets.
Conclusion
Thanks for reading the Peak Design Everyday Messenger review! If you're in the market for a camera bag to carry your 15″ laptop, camera and long lens, and other stuff, in ONE BAG, this one is worth a look. It might seem a little pricey at first, but it's cheaper than having to buy 2 or 3 other bags to carry your stuff. You can't really go wrong, especially since the Everyday Messenger from Peak Design comes with a lifetime guarantee!
Here's the Peak Design video for the 13″ variant:
---
---
More Helpful Content:
If you found this post helpful, be sure to read:
---
---