Are you looking for a small, portable, RGB LED video / photo light? Wondering if the Pixel G1s is the "right" light for you? By the time you're done reading this Pixel G1s video light review, you'll know.
Uses of a Portable Video Light
Reasons to use this handy video light could be a post all by itself, but here's some top ways to put it to work for you:
Add a pop of color to your subject or background
Use it as an accent light on your shelves
Create more interesting backgrounds for your YouTube videos
Use it as a hair light
Try it out as a key light
Dynamically swoosh some light over items when filming product videos
Light small subjects in nature when you're out on a photography walk
Use the "special effects" mode to create TV flicker, firelight, or police strobes in your videos
This list could get pretty long. But you get the idea.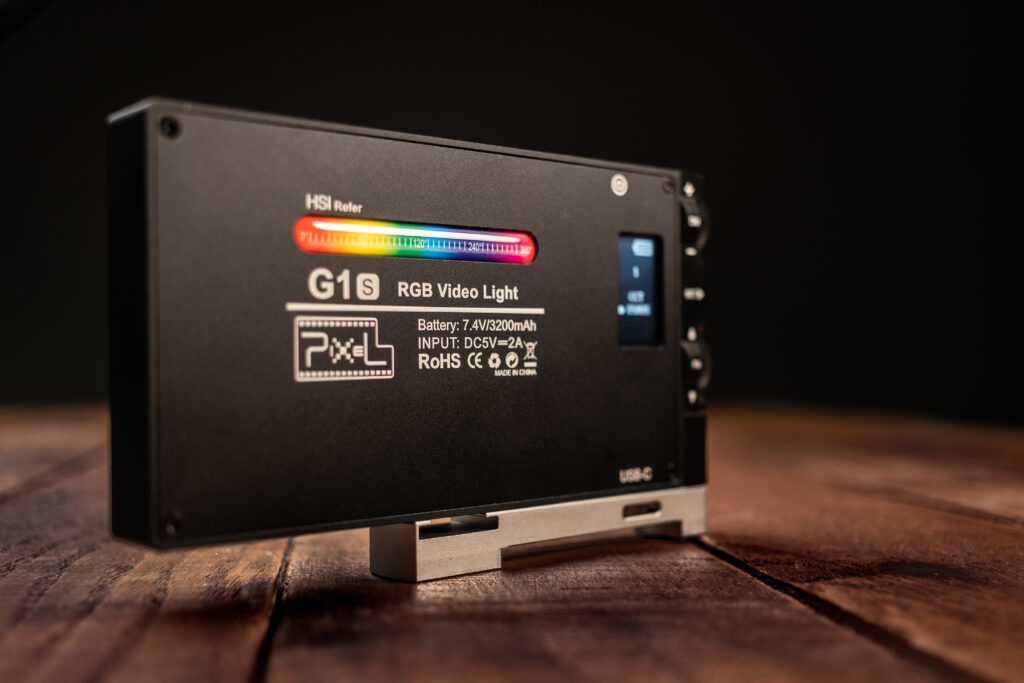 ---
---
Brightness
The Pixel G1s produces 1500 LUX at .5 meters. In terms of brightness, it compares nicely with more expensive lights (and even performs better in some cases).
---
---
So what does 1500 LUX look like in real life? It's REALLY bright. On its brightest setting, don't look directly at it, or you'll see spots! You can dial the brightness level from 0-100. That's not a type-o. The brightness goes all the way to 0, which turns off the LEDs while the device stays powered on.
Heat
Does "brightness" translate into "heat"? Well, the light doesn't get "hot" per se, but it does get warm when you crank the brightness up to 100. It's not uncomfortably warm. You'll be able to carry it around or put it in your pocket with no problems.
36,000 Colors
In RGB color mode, you fine tune color hues using a control wheel. There's 360 individual colors to choose from (0-359). A handy little rainbow spectrum chart is printed on the back so you can see which numbers equate to which colors.
---
| | |
| --- | --- |
| Color Chart Number | Color |
| 0 | Red |
| 60 | Yellow |
| 120 | Green |
| 240 | Blue |
---
You can also control color saturation using the second control wheel (0-100). When it's at 0, the color LEDs basically shut off, leaving only the white LEDs active. But from 1-100, you can precisely control color saturation.
If we do the math, (360 different color hues multiplied by 100 different saturation levels), that's 36,000 color combinations!
---
---
Bi-Color Mode
In bi-color mode, the Pixel G1s has a wide range of Kelvin light temperatures, ranging from yellowish (2500K) all the way up to crisp daylight white (8500K). To my eyes, 8500K has a blue tint to it. Each click of the dial changes the Kelvin value by 100, so you've effectively got 60 different color temperatures from which to choose.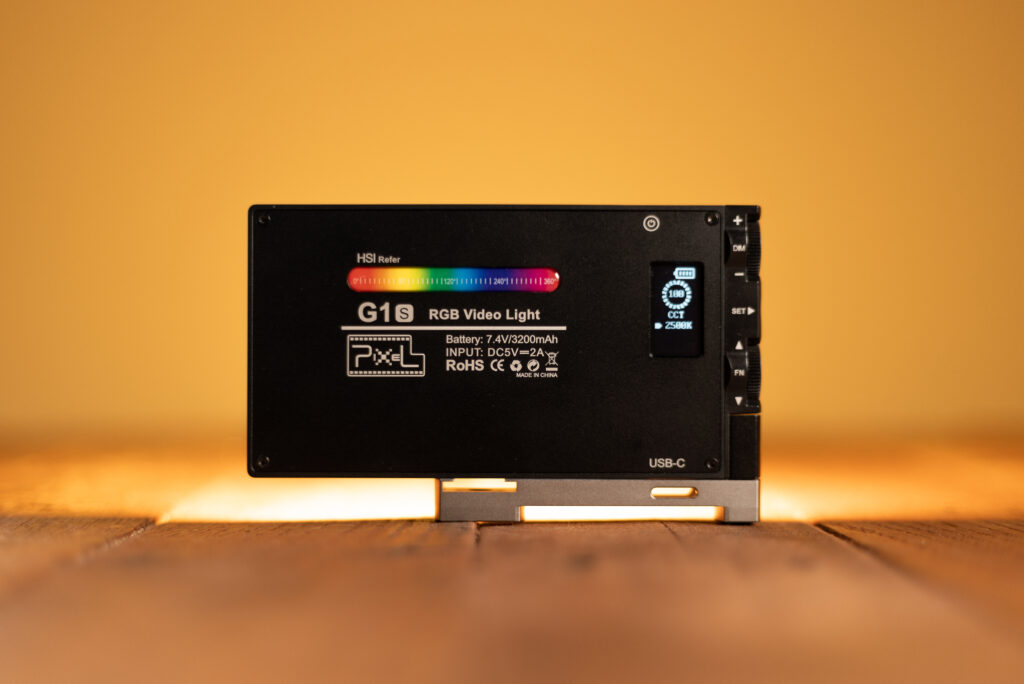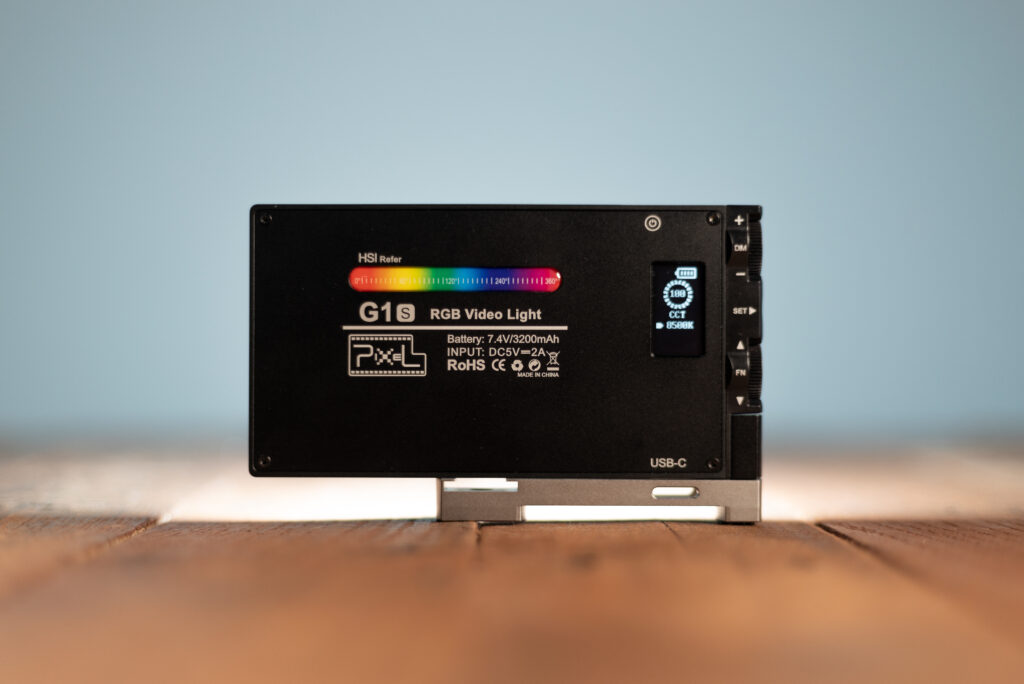 The makers of the Pixel G1s claim it has a CRI and TLCI greater than or equal to 97. That's a bold claim. It's nice to know that when lit by the Pixel G1s, my photo and video subjects will be almost perfectly "color accurate", and not overly "green" or "magenta". If you want to dive deep into the CRI and TLCI rabbit hole, check out this post by Videomaker.
Controls
The Pixel G1s has an illuminated LCD screen, two control wheels, three buttons, and a power switch. The illuminated LCD screen on the back tells you your mode, color, brightness and saturation levels.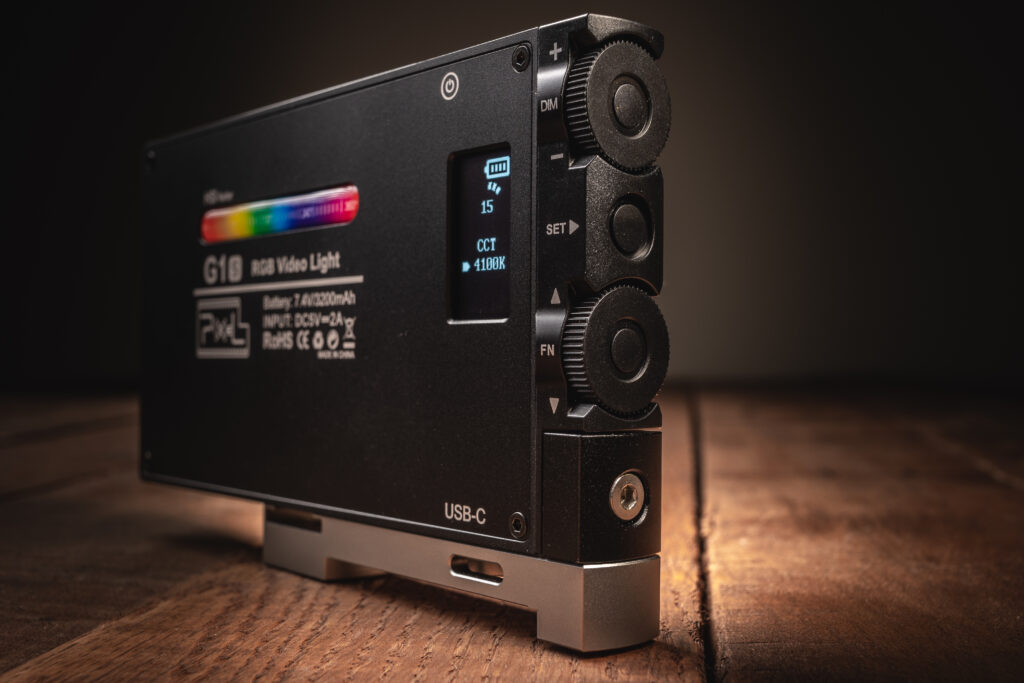 The dials don't spin freely—they "click". There's no audible sound—but you feel a soft, satisfying click when you turn the dials. The top dial controls brightness. The bottom dial controls things like color, saturation, etc.
There's little buttons in the center of each dial that toggle between the other settings you can adjust on that dial. For example, the lower dial controls color (0-360). When you press the toggle in the middle of the dial, you can control color saturation (0-100).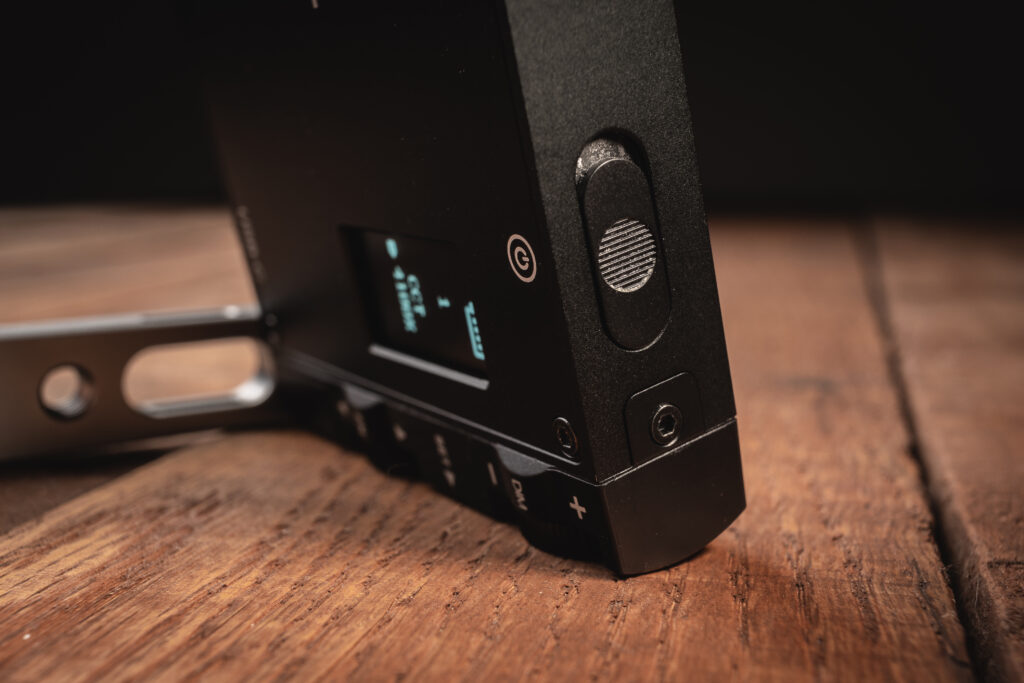 The power button is a (very stiff) recessed slider switch along the top of the light. You've really got to mean it when you power it on and off. The stiffness combined with the recessed design makes it tough to slide back and forth. It's easier to use two hands when powering on and off.
---
---
Modes
There's essentially 3 modes—
Bi-Color Mode. Basic white light with adjustable the color temperature from yellowish (2500K) all the way up to crisp daylight white (8500K).
RGB Color Mode. Control brightness with the top dial, and RGB colors and saturation with the bottom dial. If "Blue" is a little bit TOO blue for you, just dial down the saturation, and it fades to your liking.
Special Effects Mode. The light can do cool tricks, like firelight, lightning, TV flicker, police car red/blue strobes, and more.
Here's a short video that shows the Pixel G1s firelight, police lights, and lightning effects (with sound effects).
Battery
The Pixel G1s video light has a built in, 7.4V 3200mAh, rechargeable battery that lasts about 2-2 ½ hours at full power, and a little longer if I tone it down. It takes about 1-2 hours to fully charge.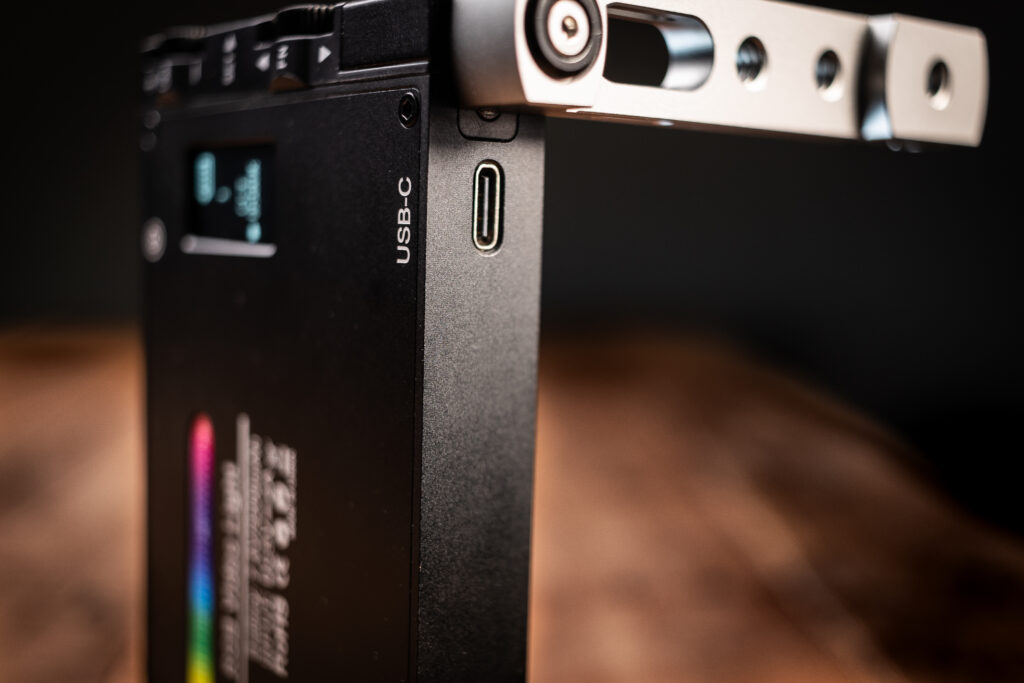 The Pixel G1s only comes with a USB-C to USB-A charging cable—but no brick. So if you don't already have one, you'll need a charging brick.
---

---
Build Quality
This thing is well built. It's plastic, but feels durable, and has a satisfying "heft" to it. It's a little bigger than an iPhone SE, and smaller than an iPhone 12 Pro Max.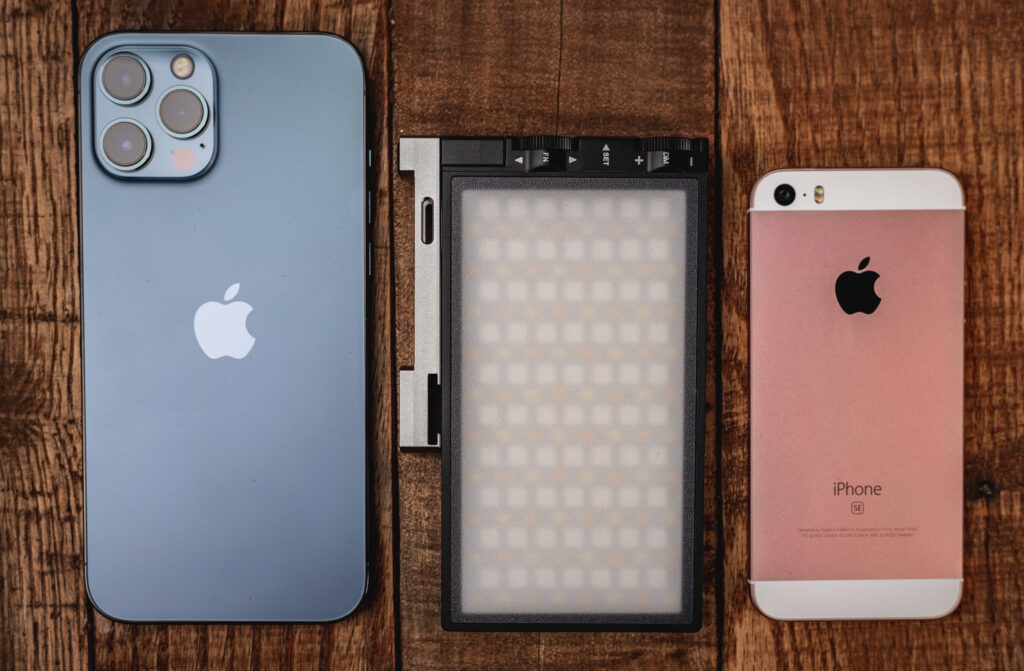 The LED panel is covered with opaque plastic diffusion material, flush with the bezel.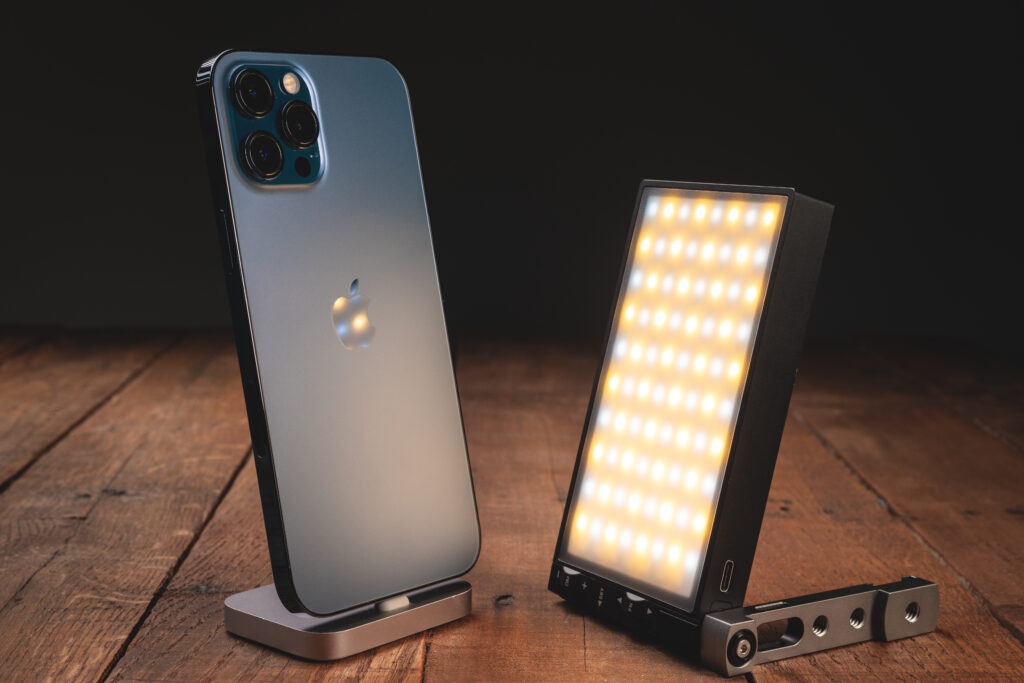 At the bottom of the unit is a rotatable metal arm with three ¼-twenty holes, and one hotshoe mount. I actually love this little arm, and use it as a kickstand, to stand the light up vertically, at a slight angle.
---
---
Contents of the Kit
So what do you get when you buy one of these? The Pixel G1s comes packaged in a nice box, with a foam cutout that protects the light. You also get some other goodies:
A soft drawstring bag to carry your light in
A miniature ball head
A hotshoe-to-¼-twenty adapter gadget
A USB-C to USB-A charging cable
A warranty card with invitation to become a Pixel product tester
Multi-language instruction booklet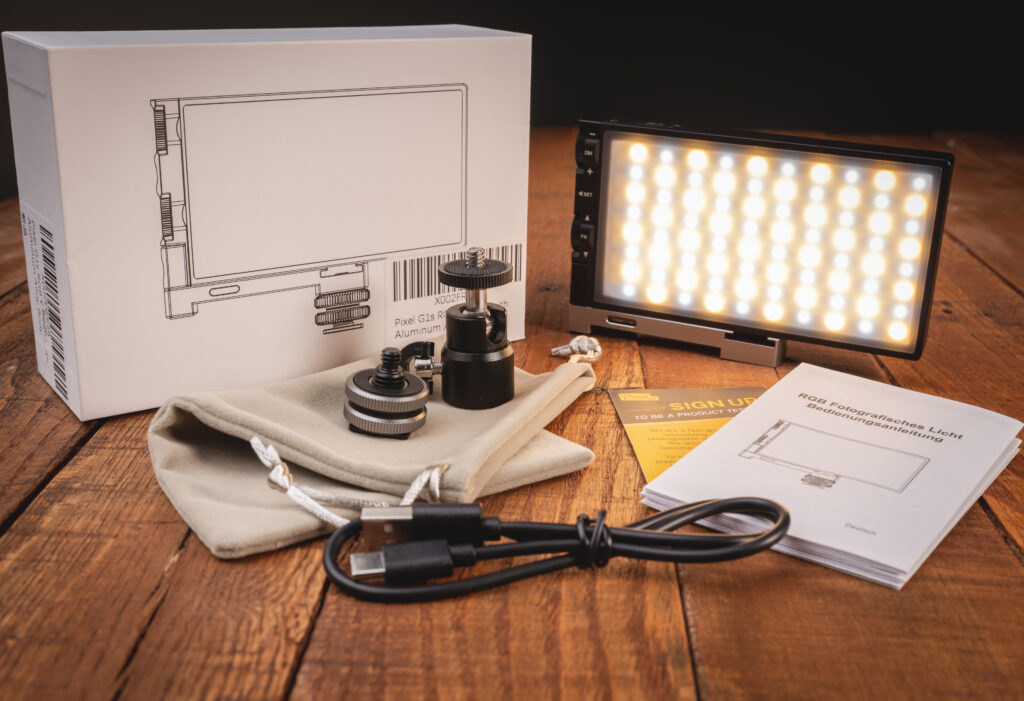 Warranty
Pixel offers a 30-day return window via Amazon, and a 12 month warranty for the G1s itself. When you get your light, just scan the QR code on the little yellow warranty card, and you'll be transported to Facebook Messenger to register it. While it seems a bit odd, the process is simple, and consists of tapping some canned responses for their Messenger bot.
During your chat session with Pixel's Messenger bot, you'll be asked if you want to sign up to become a product tester. If you opt in, you'll be asked to provide your email address.
---
---
Conclusion
This is THE light to get at this price point.  I actually bought a second one!  Lower priced units don't have as many LED bulbs (translation—they're not as bright), and I couldn't see the benefit of higher priced brands.
Let me know in the comments what you plan to use your video light for! Share a link to your social media–I'd love to check it out!
If this was helpful, be sure to check out some of my other review posts:
---
---