If you've got the DJI Pocket 2 you know it's an amazing little video recorder. But you probably also know that when you connect your iPhone, the strength of that connection isn't exactly confidence inspiring. PGYTECH solved that problem with their Phone Clamp for DJI Pocket 2. This handy little gadget is a must-have accessory to safely connect your iPhone and Pocket 2. In this post, "Review: PGYTECH Phone Clamp for DJI Pocket 2", you'll see why this gadget should be in your bag!
---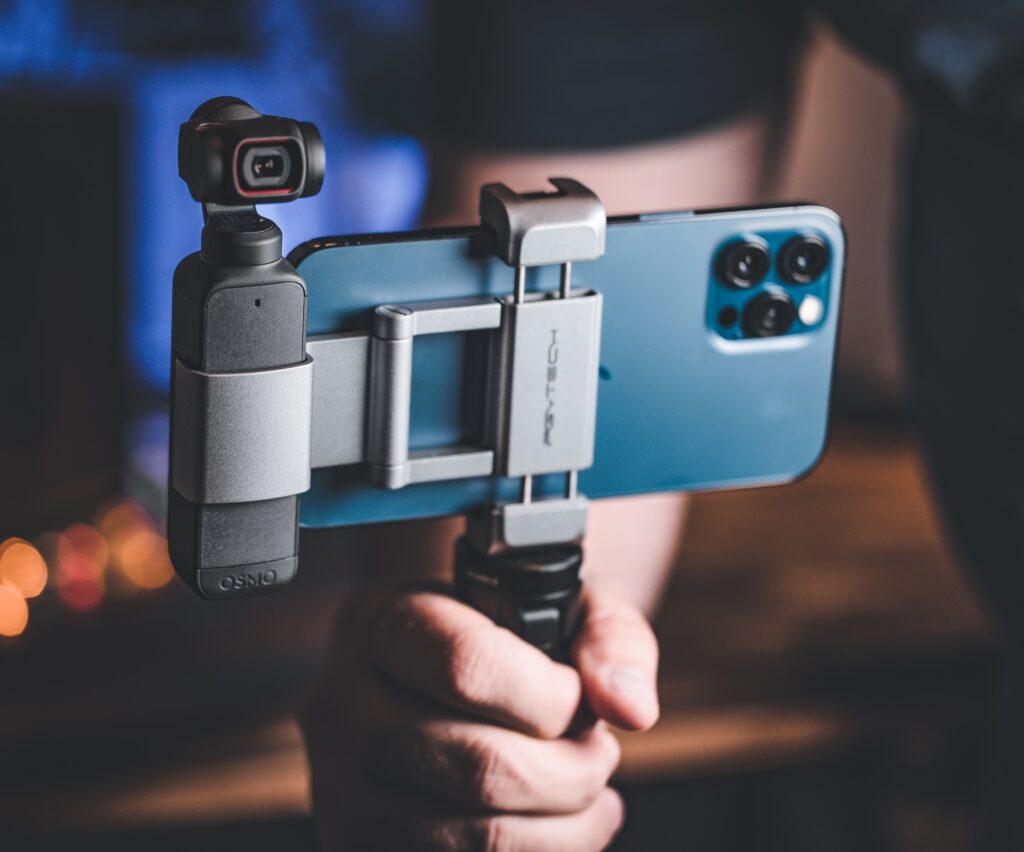 ---
Price
At the time of this writing, the price for this clamp is just under $35 (US). At first, that might seem a bit steep, given its relatively small size, and simplicity of use. But when you look at other brands who also sell phone clamps, you begin to see the value.
For example, the Manfrotto PIXI clamp costs around $30 (US). It carries the premium Manfrotto name, but lacks the build quality of the PGYTECH. The Manfrotto is made entirely of plastic, and although it's small and lightweight, it isn't nearly as confidence inspiring as the PGYTECH clamp. You're trusting this clamp with more than $1,000.00 dollars of precious electronics. You want it to be secure! $35 dollars starts to look like a small price to pay for that kind of peace of mind.
I realize the PIXI clamp isn't meant for the DJI Pocket 2–I'm simply comparing build quality and price. Remember–you get what you pay for.
Build Quality
The PGYTECH Phone Clamp for DJI Pocket 2 is small, metal, and lightweight. It folds in half so you can put in your pocket. My iPhone 12 Pro Max with Apple leather case fits in the clamp and even has a little room to spare. I don't recommend leaving your iPhone in its case though–more on that later.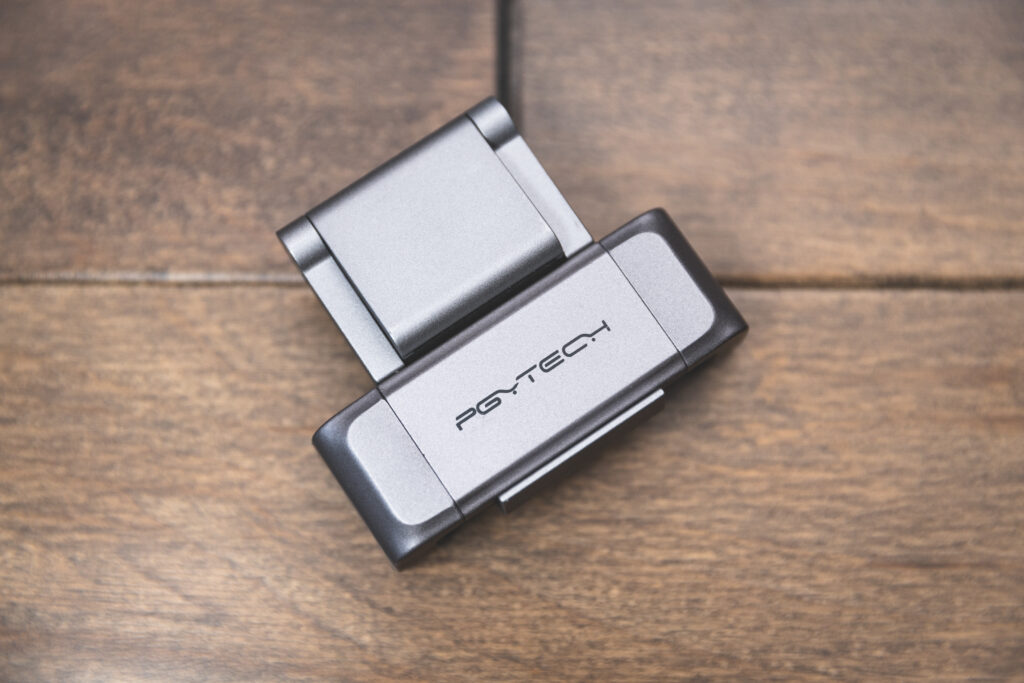 ---
---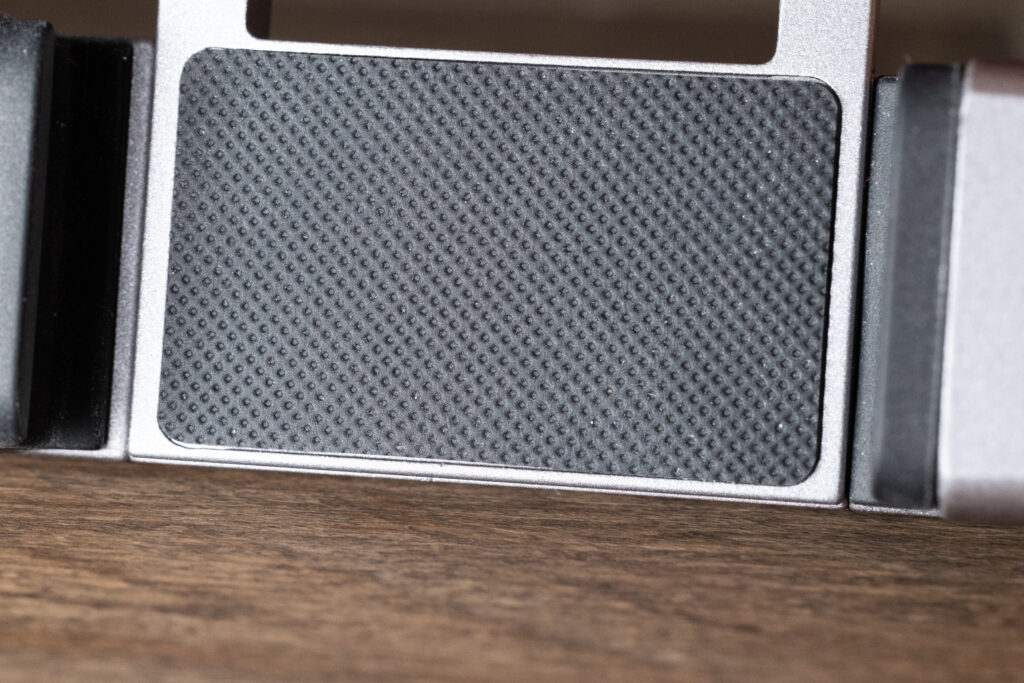 The back side of the Pocket 2 is slightly rounded, and PGYTECH rounded their clamp to match. Unfortunately, the clamp is more rounded than the Pocket 2. As a result, the Pocket 2 doesn't sit flush with the back of the clamp, and a very tiny air gap can be seen–as shown in the picture below. I haven't had any problems with it though. The clamp grips the Pocket 2 so well it doesn't move.
The phone clamp is lined in grippy rubber material, so no worries about scratching your expensive iPhone. It also features strong springs to secure your phone. The Pocket 2 mount is felt lined, and holds on snugly as well. The clamp is marketed for both the DJI Osmo Pocket, and the Pocket 2. Since I only have the Pocket 2, I can't comment on how well the Osmo Pocket fits.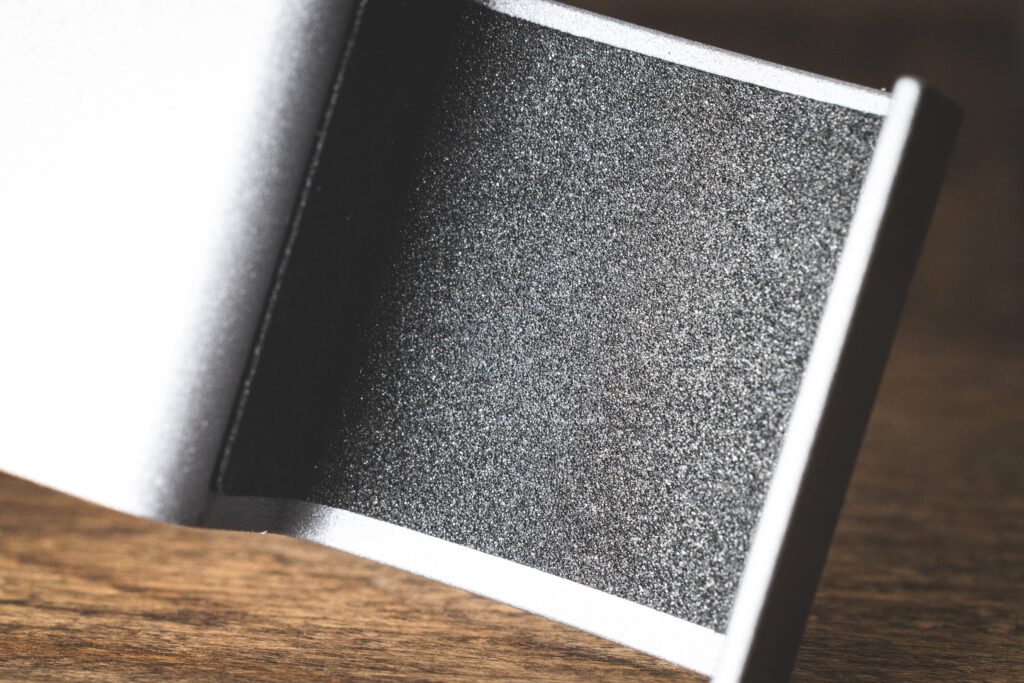 ---
---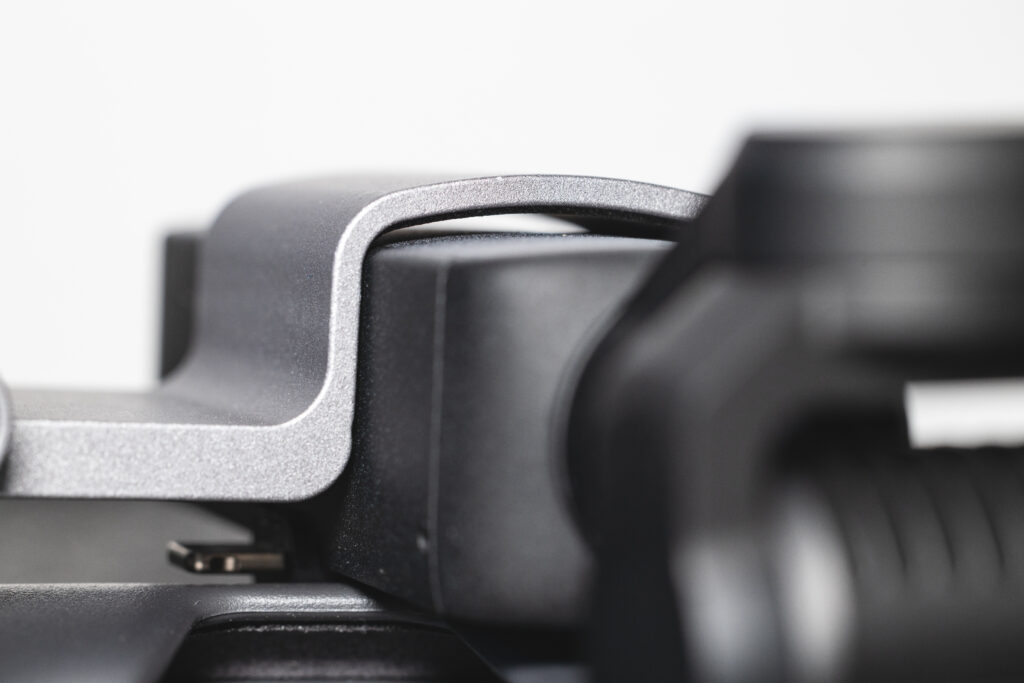 ---
---
The clamp uses a "friction hinge", which resists the pivoting motion. It doesn't loosely flop open and closed; it stays where you put it. The friction hinge combined with its all-metal construction gives the PGYTECH Phone Clamp for DJI Pocket 2 an overall premium feel in your hand.
---
---
Features
¼-Twenty mount on the bottom of the phone clamp.
Cold shoe mount on top, with rubberized grip pad.
Space gray color, with black felt and rubber pads.
Dimensions when unfolded: 4 ½" x 3″
Dimensions when folded: 2 ½" x 3″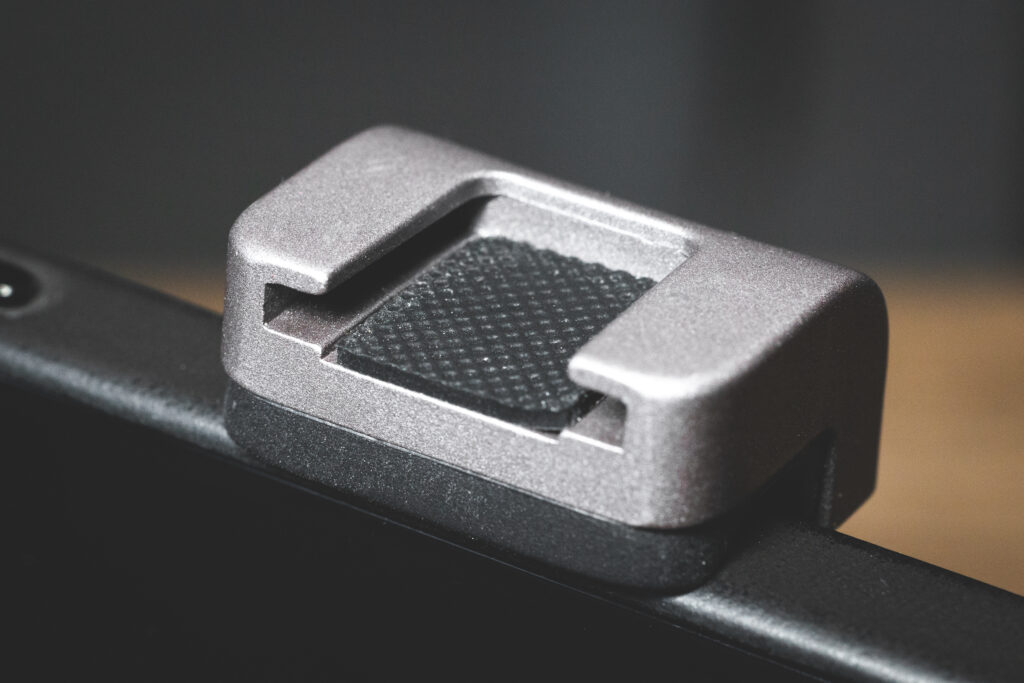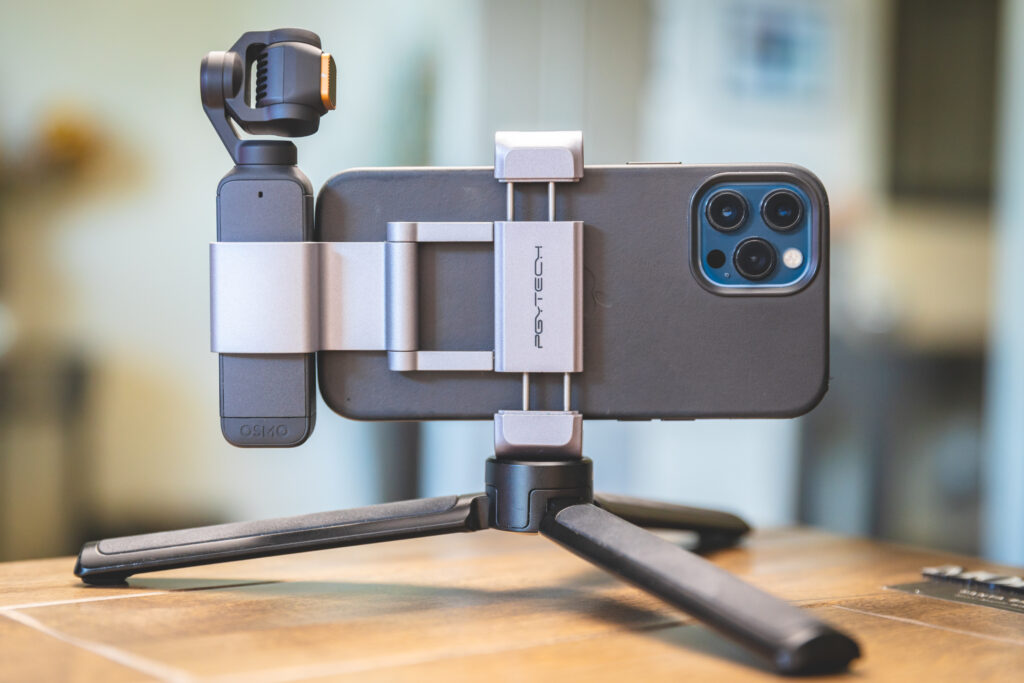 ---
In case you're curious, I use the tripod/handle from the DJI Ronin S. I find it makes the perfect accessory for the Pocket 2 / iPhone combo with the PGYTECH clamp. If you use a different handle, let us know in the comments section below.
---
Phone Case
Earlier I recommended against using the iPhone's case. That doesn't have anything to do with the PGYTECH phone clamp itself–it's all about DJI's lightning connector. Your mileage may vary depending on what kind of phone and case you have. This is simply my experience.
I use Apple's leather case on my iPhone 12 Pro Max. The lightning connector that comes with the DJI Pocket 2 works just fine when the iPhone is out of its case. When the phone is cased however, it isn't quite long enough to consistently get a good connection. You rarely hear that satisfying "snick", to let you know it's fully connected. You can make it work with the case, but you really have to mean it when you plug it in. To avoid all that, it's easier for me to un-case my iPhone when connecting the Pocket 2.
---
---
If you've got a DJI Pocket 2, and want a way to securely connect it to your phone when you make videos, then the PGYTECH has you covered.
It's your turn now! Drop a comment with a link to your social media page, and let's see the cool stuff you're filming with your DJI Pocket 2!
Be sure to check out some of my other posts: