In this Canon 24mm f/2.8 lens review, you'll see why this is the lens to get when you're looking to graduate up from your kit lens. With its versatility, and low price point, this little 24mm pancake is a compelling answer to the age old question, "What lens should I buy?"
Why Should You Buy This Lens?
Macro Photography — Photograph small objects close up
Landscape Photography — Decently wide angle for landscape photos
Low Price — This is Canon's second least expensive lens
Image Quality — Produces better photos than kit lenses
Lightweight — At 125g (4.4 oz), it's Canon's lightest lens
"Fast" Lens — The f/2.8 aperture provides good background separation, and creates nice background blur
If you're relatively new to photography, and you've only got your 18-55mm "kit" lens, then the 24mm prime is a great place to start expanding your collection.
Price and Value
At $149, the EF-S 24mm f/2.8 STM is Canon's second lowest priced lens, beat only by the EF 50mm f/1.8 STM). If $149 is a little above your budget, you can save some cash and pick up refurbished copies of this lens at stores like MPB and KEH. With it's low price and great features, the 24mm is an excellent step up from your "kit" lens.
If you're interested in learning more about Canon's cheapest lens, the 50mm f/1.8, be sure to read my review here: Canon EF 50mm f/1.8 STM Lens Review.
---
---
Drawbacks
It's not all sunshine and daisies though. As awesome as the 24mm is, it's not perfect. Here's some of the downsides:
| | |
| --- | --- |
| No Image Stabilization | The 24mm prime doesn't have image stabilization. So if you're shooting handheld in low-light, you might want a tripod to keep things steady. |
| No Zooming In | Since it's a "prime", it doesn't "zoom in". In order to frame your shots with this lens, you'll need to zoom with your feet. |
| Lower Quality than L-Series Lenses | The 24mm has minor edge vignetting and softness at f/2.8 and very minor chromatic aberration and barrel distortion. This lens is much better than the 18-55mm kit lens, but not at the level of professional L-series lenses. |
Camera Compatibility
The Canon EF-S 24mm f/2.8 is compatible with all Canon EF-S mount systems. It even works on newer RF mount cameras like the EOS R, R5, and R6, as long as you have an EF-to-RF lens mount adapter.
It's NOT compatible with EF full-frame cameras like the Canon 5D Mark IV, 6D Mark II, and 1DX Mark III.
Here's a list of compatible Canon EF-S mount cameras:
EOS 7D
EOS 7D Mark II
EOS 20D
EOS 20Da
EOS 30D
EOS 40D
EOS 50D
EOS 60D
EOS 60Da
EOS 70D
EOS 77D
EOS 80D
EOS 90D
EOS 100D/Rebel SL1
EOS 200D/Rebel SL2
EOS 250D/Rebel SL3
EOS 300D/Digital Rebel
EOS 350D/Digital Rebel XT
EOS 400D/Digital Rebel XTi
EOS 450D/Rebel XSi
EOS 500D/Rebel T1i
EOS 550D/Rebel T2i
EOS 600D/Rebel T3i
EOS 650D/Rebel T4i
EOS 700D/Rebel T5i
EOS 750D/Rebel T6i
EOS 760D/Rebel T6s
EOS 800D/Rebel T7i
EOS 1000D/Rebel XS
EOS 1100D/Rebel T3
EOS 1200D/Rebel T5
EOS 1300D/Rebel T6
EOS 2000D/Rebel T7
EOS 4000D/Rebel T100
If you're interested in the difference between EF and EF-S lenses, check out this short video from Canon:
---
---
---
Build Quality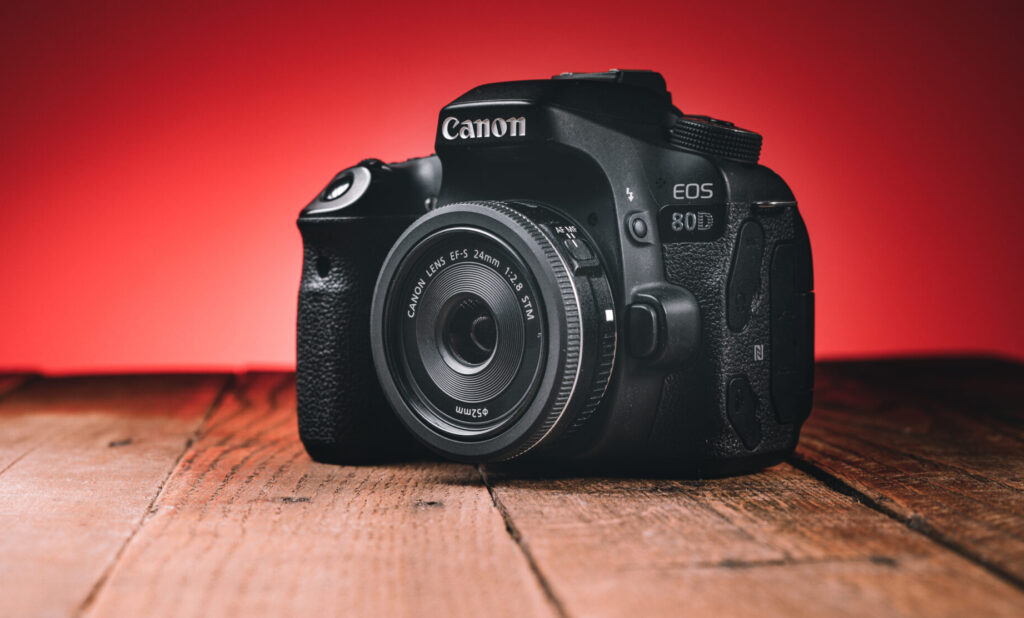 The 24mm feels (and looks) like a hockey puck. That's probably because there's almost no moving parts. It feels sturdy in the hand, and has a metal lens mount, which adds to the feeling of build quality and durability.
The little 125g (4.4 oz) lens looks really tiny on my Canon 80D–it's barely bigger than a body cap. It's so small in fact, that another photographer once asked me why I was carrying my camera around with no lens attached!
Accessories for the 24mm f/2.8 EFS
The 24mm f/2.8 EFS prime can be fitted with the optional Canon ES-52 lens hood (not included) which is a screw-on type—and…don't bother buying it. Most lens hoods provide a modicum of protection for a lens's main element. The ES-52? Not so much. It looks more like a step-up ring than a proper lens hood.
The lens has a 52mm filter thread for circular polarizers and ND filters.
---
---
Features
Focus
This lens features Canon's STM (stepping motor), which makes autofocus quick, smooth, and quiet. The focus ring spins freely and doesn't stop at a left or right end point. The lens features full-time manual (FTM) focus, so you can manually adjust focus while in autofocus mode. Since there's no hard stop for "infinity" focus, the autofocus system takes care of infinity for you.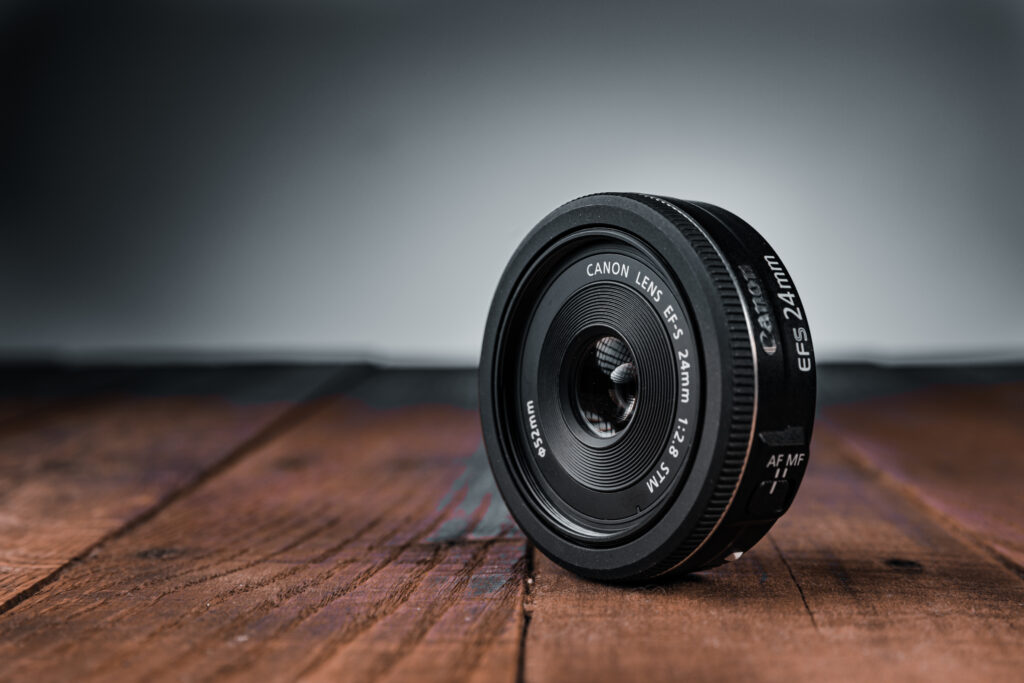 Tech Specs
The lens contains 6 optical elements in 5 groups and features 7 rounded aperture blades, allowing this lens to open up to f/2.8 at its widest point, stopping down to f/22 at its smallest.
| | |
| --- | --- |
| Product Info | |
| Dimensions | 0.91 x 2.68 x 2.68 inches |
| Weight | 4.4 ounces (125g) |
| Model Number | EF-S2428STM |
| Aperture | f/2.8 to f/22 |
| No. of diaphragm blades | 7 |
| Minimum focus distance | 0.16m / 0.52ft |
| Max magnification | 0.27x |
Wide Angle
This lens has a nice wide focal length of 24mm, making it a great lens for street and landscape photography. When you calculate the crop factor (lens focal length multiplied by 1.6) you'll notice the images this lens produces are roughly equivalent to 38mm on a full-frame camera.
Macro
Any lens that can focus on objects closer than 12" inches qualifies as "macro". Minimum focusing range on this lens is 6″ inches (.16 meters), and has a reproduction ratio of 1:3.7. Canon acknowledges it's a macro lens by printing "MACRO" on the barrel.
---
---
The Canon 24mm f/2.8 lens review wouldn't be complete without some kind of comparison. Here's a look between the 24mm f/2.8, and 18-135mm kit lenses. Notice how much closer you can get with the 24mm!
EF-S 24mm f/2.8 STM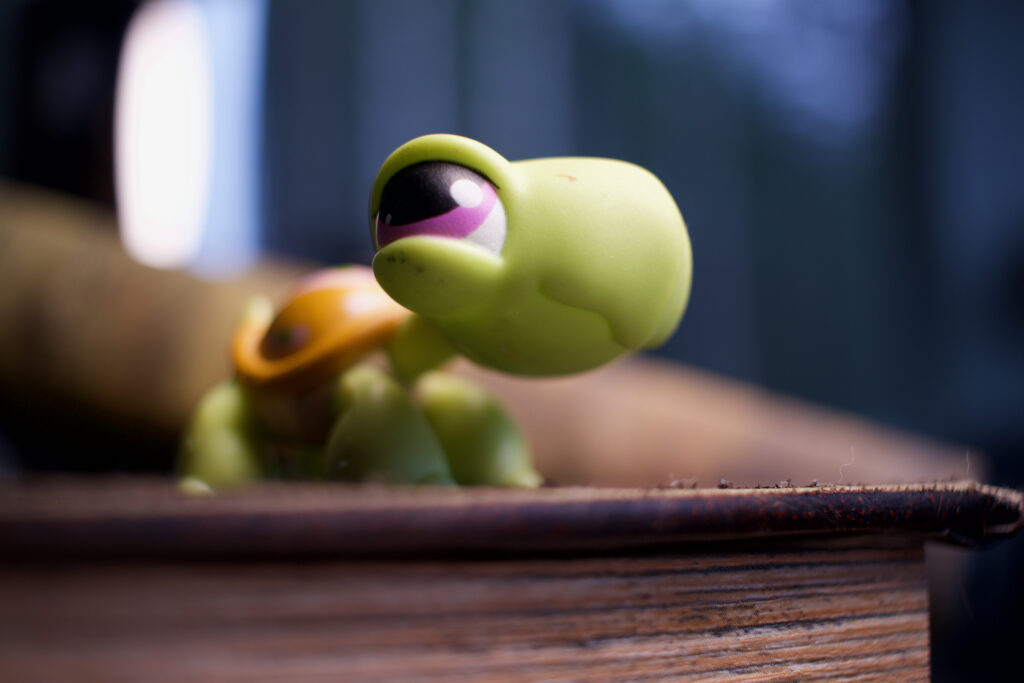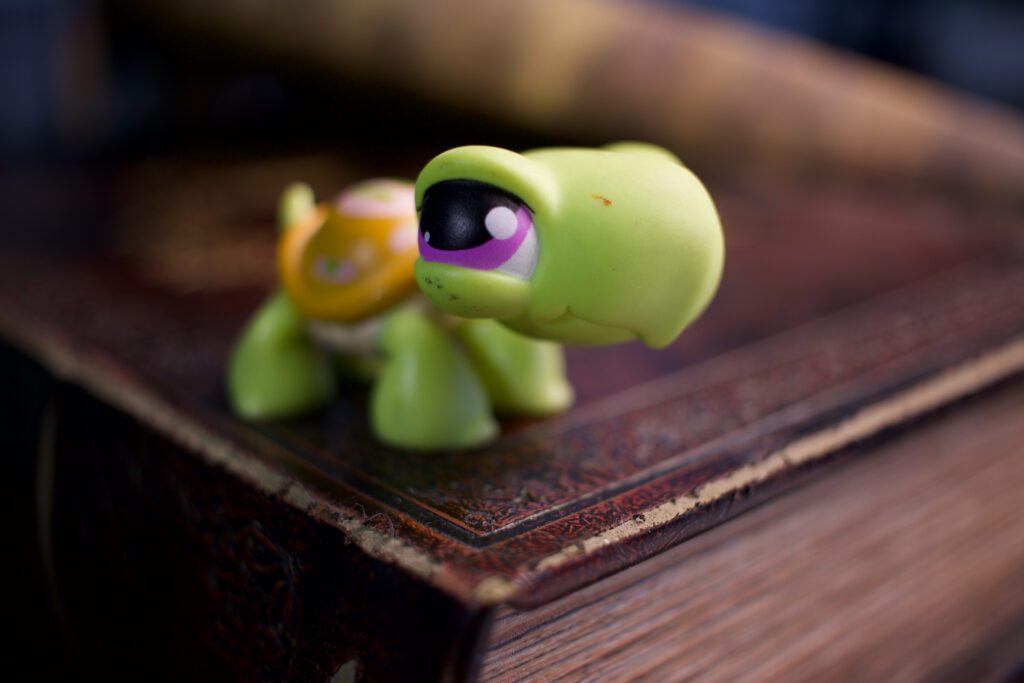 EF-S 18-135mm f/3.5-5.6 (at 24mm)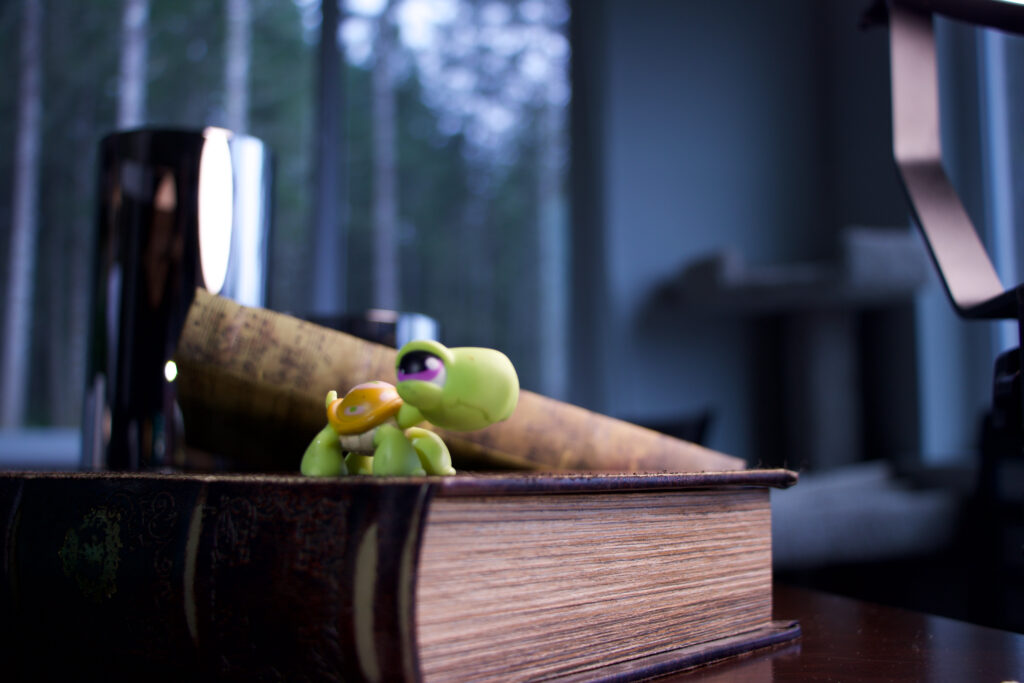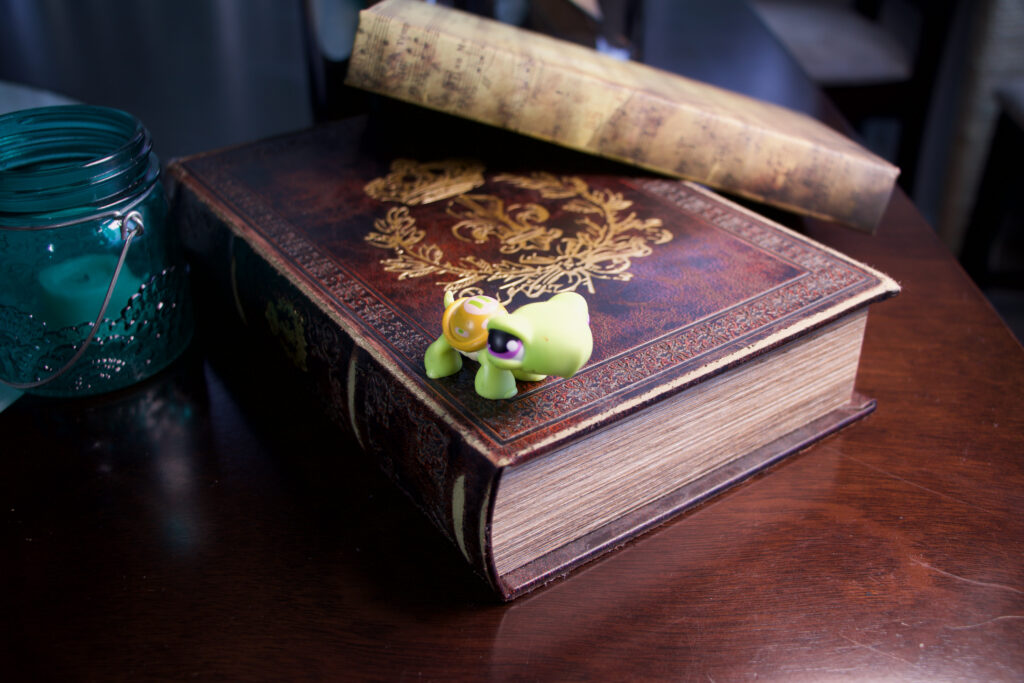 Getting that close to small objects opens up some creative possibilities! If toy turtles aren't your thing, imagine shooting jewelry!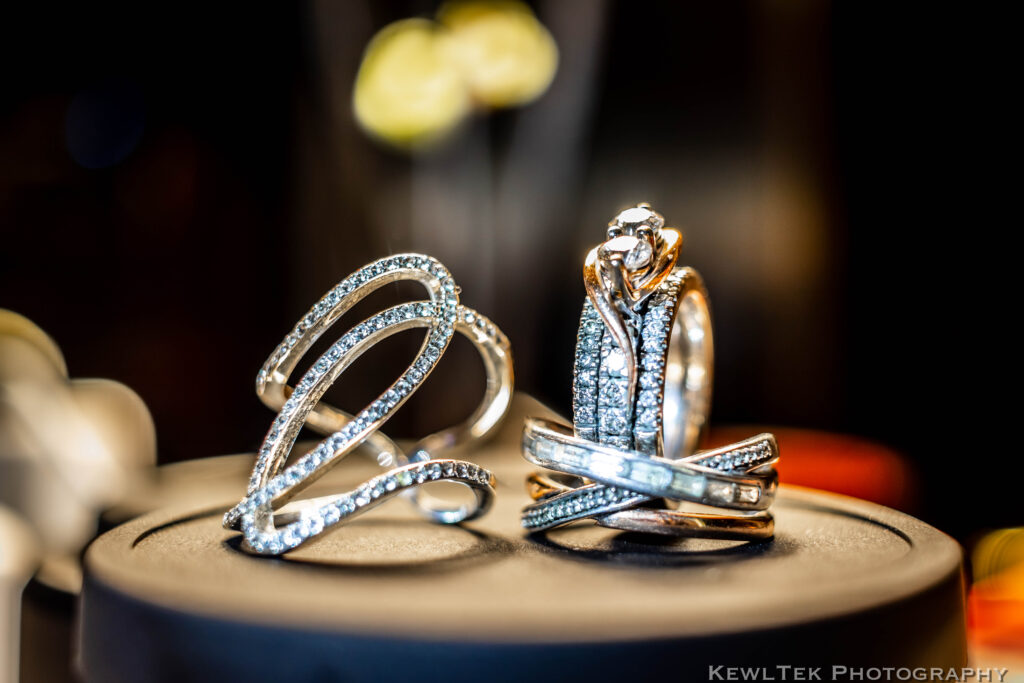 Image Quality
Image quality is good at f/2.8, however you might notice some chromatic aberration. At f/2.8, there's faint vignetting and "soft" details at the corners. Those issues can easily be cleaned up with software like Adobe Lightroom. If you stop down to f/4 edge sharpness improves, and vignetting vanishes. You'll see only a slight improvement at f/5.6. Bokeh at f/2.8 is ok, and backgrounds are decently blurred.
There's only minor barrel distortion, but it's minimal, and you probably won't notice it in your photos.
---
---
Who Is This 24mm Lens For?
If you enjoy using your APS-C Canon DSLR, but want to expand your creative options without breaking the bank, then this lens is a great choice. You'll start to see what your camera is capable of, and it will feel new again!
---
---
Conclusion
Now it's your turn! What sorts of cool things are you going to photograph with your EF-S 24mm f/2.8 STM? Let me know in the comments below! And share links to your social media so we can check out your awesome photos!
Now get out there and shoot! And remember to have fun!!!
If you enjoyed this Canon 24mm f/2.8 lens review, be sure to read these: