Have you ever been outdoors with your camera when it started drizzling–or worse, raining? Even if your camera is weather sealed, you don't want to expose your expensive photography tools to the elements if you don't have to. To be safe, you should keep an inexpensive DSLR rain cover in your camera bag.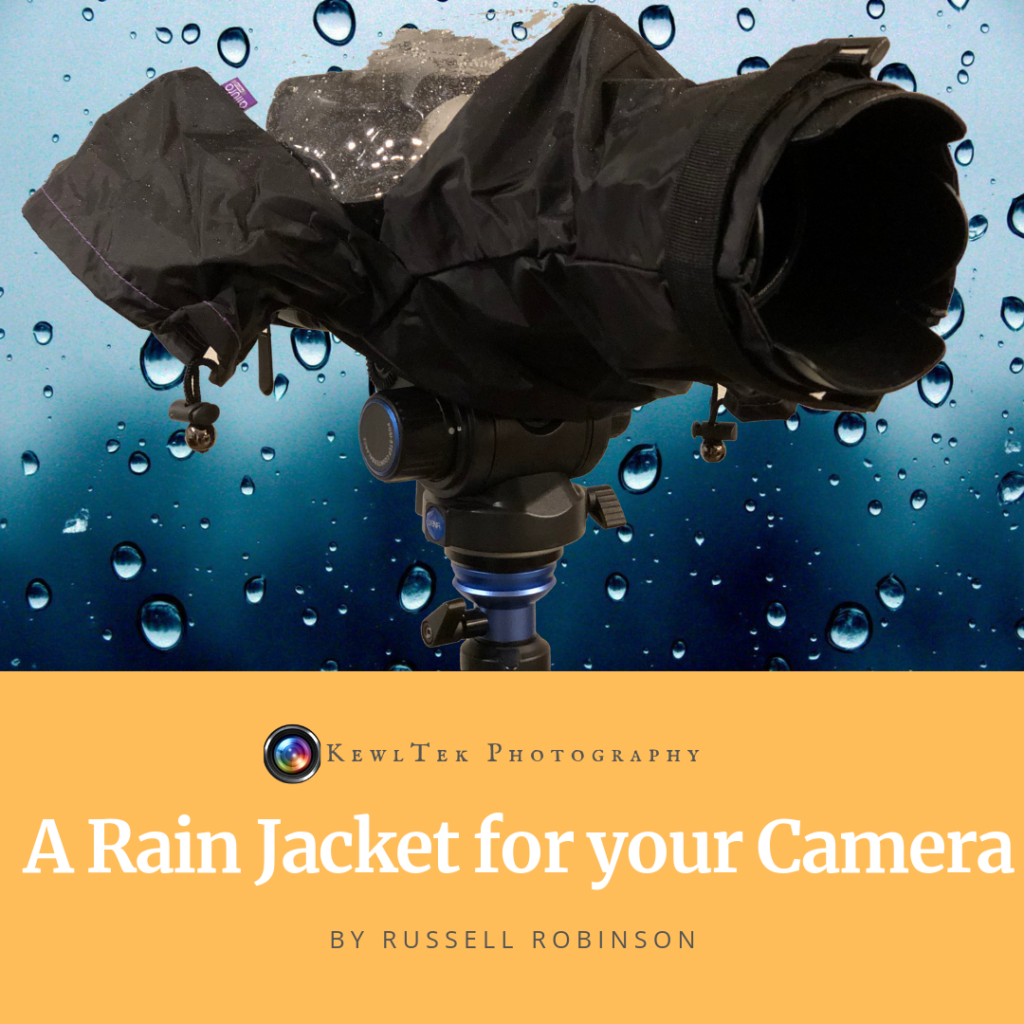 I photograph youth football. I'm out there with the kids in all sorts of weather, even rain. My camera and lens are "weather sealed" (Canon 80D with 70-200mm f/2.8), but I don't like the idea of tempting fate where my camera gear is concerned. Usually, the worst weather I have to deal with is a "clinging mist", or light drizzle—but as you can see in the following shot, the weather here in the Pacific Northwest can take a very wet turn, very quickly: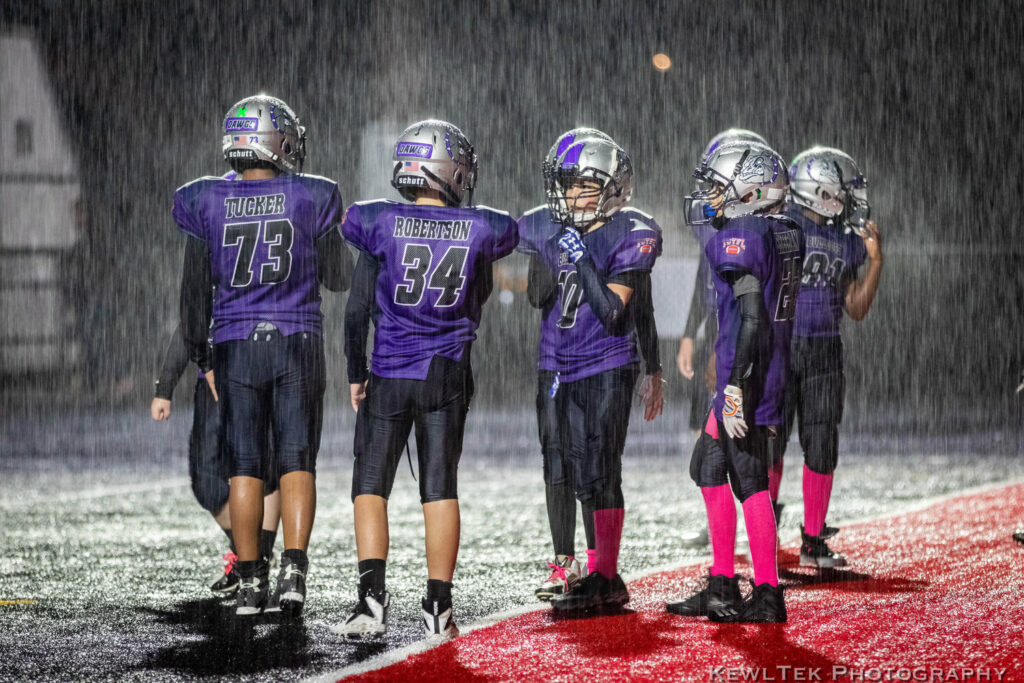 A photography friend of mine, Dan Plunkett, told me about the Altura Rain Cover [Amazon Link]. He got his out of his camera bag, unfolded it, and let me check it out. When he said it cost $15 bucks, I decided it'd be a 'no brainer' to buy one for myself.
Why Buy a DSLR Rain Cover?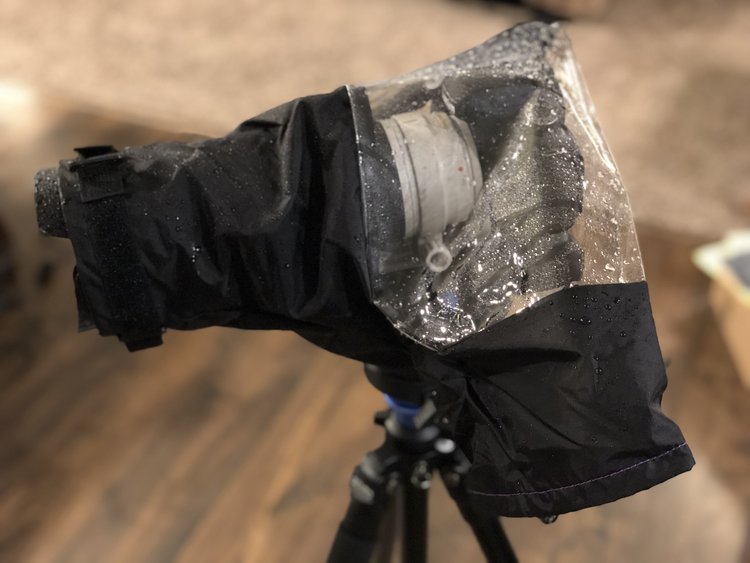 Why should anyone pay for a DSLR rain cover like this? I've seen photographers use plastic garbage bags wrapped/taped to their cameras and lenses. Also, I've seen big bulky blanket looking contraptions over their gear. I guess those techniques might work, but I wanted something light, easy to use, and unobtrusive that I could keep in my camera bag. A giant garbage bag didn't seem like the right tool for me. I roll video sometimes–and need to be able to see the LCD screen, as well as easily get to the buttons and zoom ring. Could a garbage bag let me do all that? Maybe, maybe not… But the Altura DSLR Rain Cover for sure lets me do all that.
---
---
Pros–
The rain cover is large enough to completely protect my camera with battery grip, 70-200mm lens with lens hood, and Benro S6 fluid video head–and there's room to spare! The inner part of the cover (where it wraps around the lens hood) is lined in a rubbery, grippy material. Once the jacket is on, I tighten it using the built-in velcro strap. The grippy material "holds on", creating a water barrier around my lens hood. Pretty cool!
The cover has "sleeves" that let me access my camera's controls, as well as the lens's zoom and focus rings. There's even adjustable 'draw strings' at the end of the sleeves, so I can cinch it to my wrists, and prevent water from coming in that way. On the underside of the cover is a zipper. I usually leave it unzipped so I can mount my rig to my tripod or monopod. The entire backside of the cover is made of flexible, clear plastic which allows me to see the LCD screen, and buttons. Although it's not comfortable, I can look use the viewfinder through that plastic if I need to.
When not in use, the 'raincoat' folds flat, and slips into an area in my camera bag, out of the way, until needed. It's not bulky, and weighs almost nothing, so honestly, I forget it's there until I need it.
Cons–
The rain cover doesn't let me connect my Rode video-mic (or much of anything else) to the hot shoe on top of my rig. Looking through the viewfinder is possible, but not comfortable–and probably not what the vendor expects we'll do. "Live View" shooting is doable though. Once I get my hands inside the cover there's not a lot of room to maneuver. It's difficult to fiddle with the camera's buttons and dials. Furthermore, there's even less room to adjust the zoom and focus rings on the lens. Shooting sports, I need to be able to quickly operate the camera. With this cover, I've had to re-learn what I can and can't do, as well as how fast I can do it.
---
---
Bottom Line–
If you're like me and live in a rainy area, (I live near Seattle), you want to keep your photography gear dry. This camera "rain jacket" doesn't break the bank (only about $15 as of this writing), and has some nice features. It folds flat and doesn't get in the way in my camera bag. I forget it's even there most of the time, but boy am I happy I've got it when it starts raining! If you think you might get caught outdoors in the rain while shooting, it doesn't hurt to have an Altura DSLR rain cover [Amazon Link] in your camera bag!
More Helpful Content
If you found this review helpful, be sure to check out more helpful content:
As an Amazon Associate I earn from qualifying purchases. When I share Amazon product links, I do it for your convenience–so can quickly see pricing info, read other reviews, and check the details without wasting time having to hunt for the info. Clicking the links doesn't cost you anything–and if you make a purchase, I earn a small commission. I'm disclosing this to you because I believe in transparency, and want to earn your trust!